Members



Giovanna Baviera

Voice
Viola da Gamba

After obtaining a Master's degree with honours in Music and Philosophy at Trinity College Dublin, Ireland, Giovanna Baviera moved to Basel to study Viola da gamba with Paolo Pandolfo, where she graduated with a Master's degree in 2016. While in Basel she also pursued studies in singing (with Kathleen Dineen and Ralf Ernst) and choral conducting (Raphael Immoos).
Giovanna accompanies herself on the viol and is a founding member of Concerto di Margherita. She has a busy schedule as a chamber musician with several ensembles across Europe (Profeti della Quinta, Daedalus, Novantik) and has performed in a variety of festivals and venues across Switzerland and Europe (Théâtre Vidy Lausanne, Gessnerallee Zürich, Poznan Baroque Festival, Harvard Institute for Renaissance Italian Studies Florence, among others).


Francesca Benetti

Voice
Lute
Theorbo
Baroque Guitar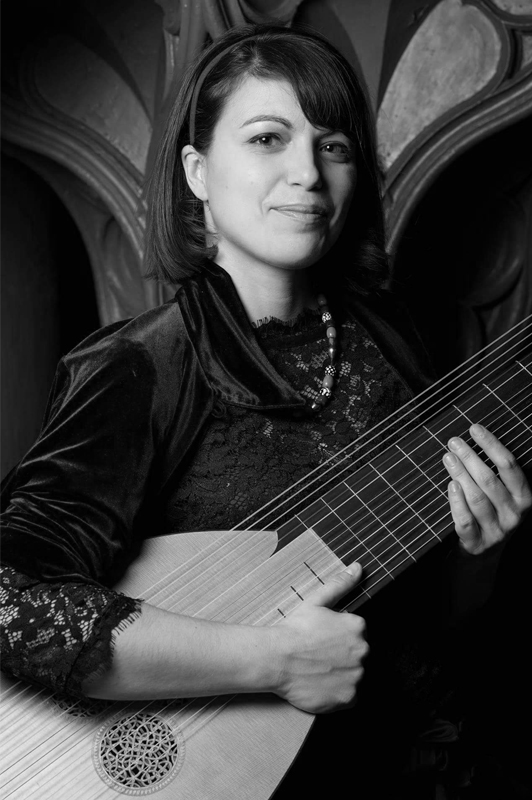 Francesca is a guitarist and theorbist originally from Trento, Italy. She studied classical guitar at the Music Conservatory in Venice with Florindo Baldissera and at the Hochschule der Künste Bern with Elena Cásoli with a focus on contemporary music.
She pursued her interest in theorbo and early music at the Schola Cantorum Basiliensis, where she graduated in 2014 under the tutelage of Peter Croton.

She has performed as a soloist and as a chamber musician with various ensembles and in several festivals across
Europe, notably in Venice (Art Night Festival/World Venice Forum 2009), Trento
(Castello del Buonconsiglio),Ravenna(Workshop-Ensemble Accademia Bizantina), Firenze (Harvard Institute for Renaissance Italian Studies), Lubljiana (Days of Early Music), Kassel (Stadttheater), among others.
She has built her experience as an orchestral continuo-player under notable conductors such as René Jacobs and Rinaldo Alessandrini.
She is co-founder of the ensemble Gitarreria and Concerto di Margherita.


Ricardo Leitão Pedro

Voice
Lute
Theorbo
Baroque Guitar

Ricardo has been fascinated by singer-instrumentalists from Antiquity to modern times for a long time. He is one of the few performers today to revive the early practice of cantor al liuto, accompanying himself on different plucked string instruments (medieval-renaissance lute, theorbo, baroque guitar).
Born in Porto in 1990, he first picked up the lute at eighteen-years old inspired by a concert of Hespérion XXI and encouraged by his classical guitar teacher Pedro Fesch.
A year later he's accepted for a bachelor degree in early music at ESMAE (Porto), during which he was granted an Erasmus scholarship to study with lutenist Eugène Ferré during his last year of teaching at the Conservatoire National Supérieur de Musique et Danse de Lyon. With concerts given in Switzerland, Portugal, Spain, France, Italy, Slovenia and England, he's regularly invited to perform with different ensembles (Troxalida, La Boz Galana, Cappela Sanctae Crucis) and is a member


of "I Discordanti" (selection EEEmerging 2016) and Concerto di Margherita (selection EEEmerging 2017 & 2018).
His lute duo with Guilherme Barroso was awarded 2nd prize (1st non-attributed) at the JIMA competition (Portugal) for chamber music.
Along the years, Ricardo has also had the opportunity to learn from singers such as Gerd Türk, Ulrich Messthaler Patrizia Bovi and Kathleen Dineen and lutenists Paul O'Dette, Eduardo Egüez, Hopkinson Smith and Rolf Lislevand.
He's currently based in Basel, where he's concluding a master degree at the renowned Schola Cantorum Basiliensis in medieval and renaissance singing with Dominique Vellard and lute with Crawford Young and Marc Lewon, with a special focus on historical improvisation techniques.
Rui Stähelin

Voice
Lute
Theorbo
Baroque Guitar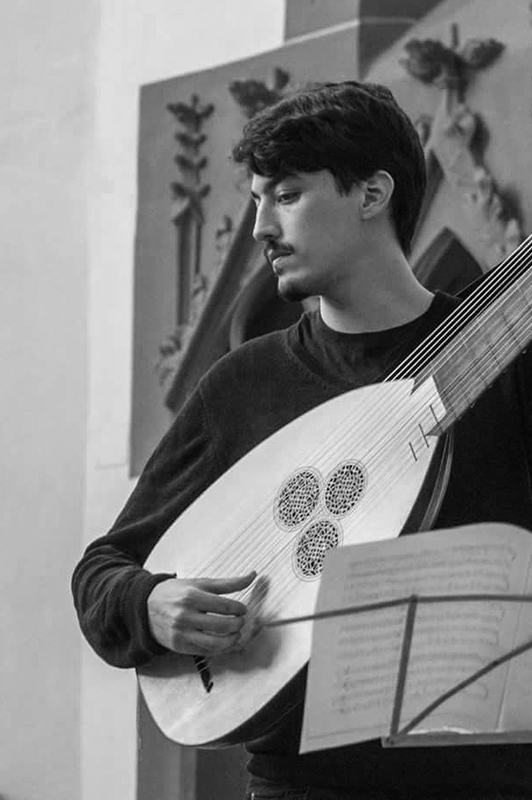 Rui is born in Basel and studied lute with Hopkinson Smith at the Schola Cantorum Basiliensis.
He discovered the instrument early on in life, winning first prize in the Swiss Youth Music Competition in 2009.
He perfected his skills as a lutenist in masterclasses with Paul O'Dette, Evangelina Mascardi und Paul Beier.
He is a member of Concerto di Margherita and accompanies himself on the lute.



He is in demand as a self-accompanying chamber musician with ensembles such as Les Bergers and Novantik. He has performed in Switzerland, the Netherlands, France and Italy.
He is particularly interested in historical improvisation practices on lute and theorbo, which he pursues both as a soloist and as a chamber musician.
Tanja Vogrin

Voice
Baroque Harp
Tanja is a Slovenian-born Mezzosoprano and Harpist who studied singing with Dušanka Simonovic, Jolanda Korat, Annemarie Zeller and Joanna Borowska-Isser, and harp with Dalibor Bernatovic, Eva Hoffellner, Arcola Clark and Ágnes Polónyi in Slovenia and Austria. She graduated from the Universität für Musik und darstellende Kunst Graz with honours in 2009.
Her interest in early music led her to the Schola Cantorum Basiliensis, where she studied historical harps with Heidrun Rosenzweig, ensemble singing with Anthony Rooley and Evelyn Tubb and medieval singing with Kathleen Dineen.

Tanja accompanies herself on the harp and is one of the founding members of Concerto di Margherita.
She has a busy schedule both as a soloist and with several ensembles (Novantik, Alerion, Neue Hofkapelle Graz, Recreation Barock, La Cetra Basel, Cortesia, Austrian Baroque Connection, Musica Cubicularis).
She teaches baroque singing at the J. J. Fux- Konservatorium in Graz since April 2016.